SERVING OUR COMMUNITY SINCE 1994
What is Geriatric Care Counseling?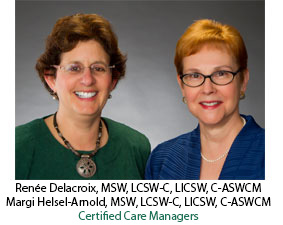 Geriatric Care Counseling is an independent professional geriatric care management service which was established in 1994 for the purpose of assisting older adults and their families or other concerned parties in realistically assessing needs and creating personalized plans tailored to meet the unique needs of each individual. GCC is able to simplify and streamline the process of defining the needs of each senior and identifying the resources to best meet those needs.
What services does GCC provide?
Consultations with family, friends, and older adults wherever needed:
home setting, work site, hospital or other setting.
In-home personal needs assessment
Creation of individual care plan
Coordination of high quality home care services
Evaluation of appropriate housing alternatives
Crisis Management
Excellent referrals for all types of community resources
Care management services, short-term and long-term
Support for local and long-distance relatives in need of assistance
Work with employees who are dealing with aging parent issues to minimize interference with their work productivity
6619 Rannoch Road
Bethesda, MD 20817
Tel. - 301-320-5380
Fax - 301-320-2992
Email US
"GCC'S help was valuable to me in easing my mother's hurdles of rehab and subsequent move. It was a relief to me to know that you were able to liaise with doctors, nurses, etc. and found someone to be a companion to mom. "For me, it was reassuring being 10,000 miles away, to know that you were there to help."
A Daughter from
Australia
"As an out-of-town employer of GCC's services for my mother, I always felt completely informed and in touch with the care providers. For me, GCC was an outstanding solution."
A Daughter from
Michigan